Dr. Tushar Patel's Patient Gabriel Hurley Makes Front Page News
This story was updated on March 5, 2015.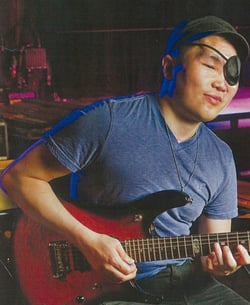 In 2009, Dr. Tushar Patel of the Institute for Advanced Reconstruction at the Plastic Surgery Center of New Jersey performed exceptional microsurgery on an accident victim, Gabriel Hurley. In what can be described as nothing short of a miracle, Dr. Patel has become a major part of Hurley's life. Recently, the Star-Ledger picked up Gabriel Hurley's story and featured it on the front page of the paper on September 24. (Click here to read the story online.)
A recent Rutgers University graduate and promising musician, Hurley was running an errand when he was involved in a horrific car wreck that left him permanently blind. The Piscataway, NJ, resident is fortunate to be alive, after receiving 12 surgeries to reconstruct his entire face, as every bone was either fractured or crushed in the accident caused by a distracted, showboating, teen driver.
Luckily for Hurley, he received treatment from Dr. Patel. Dr. Patel and his medical team assessed Hurley's situation immediately after the car crash when his facial tissue was destabilized, and both eyes had ruptured.
Hurley needed to have his entire mid-face and jaw reconstructed, along with his frontal sinus passage. During the first of many surgeries, Dr. Patel removed bits of rib and skull bone and held them together with screws and plates to begin the reconstruction. Pins were also placed in the hand to ensure proper healing.
Remarkably, Hurley can once again play guitar in his band. He now travels, giving motivational speeches on the topic of Safe and Healthy Driving.
Says Hurley, "It's important to point out that even though I never considered myself invincible, I still never expected to become another statistic or headline. We can't control everything in our lives, but we can control how we operate a car, which is a fact many people lose sight of."
Gabriel Hurley's story with Dr. Patel was featured in a magazine published by Robert Wood Johnson Hospital.
Hurley continues to speak about the incident and how it could have been avoided and hopes his message can reach as many people as possible.
**Patient Update**
In the fall of 2014, Gabriel Hurley wrote "The Show" as a way to express his message of perseverance.
See the music video below: