Cleft and Craniofacial Awareness Month
July is National Cleft and Craniofacial Awareness and Prevention Month. Craniofacial anomalies (CFA) are a diverse group of abnormalities that occur during the formation of the head and facial bones and soft tissue. They are congenital (present at birth) and typically occur during the first few weeks of pregnancy. About 1 in every 700 babies is affected by some type of craniofacial malformation.
Causes of Craniofacial Anomalies and Risk Factors
There is not one specific cause for CFAs, but rather multiple factors that may cause them. Genetics may play a role as a combination of genes from one, or both parents may result in a craniofacial anomaly. Environmental factors such as specific drugs or chemical exposure during pregnancy may also contribute to or be causative. Although this is not fully understood, the combination of genetic factors mixed with environmental exposures may increase the risk of craniofacial anomalies. An additional known cause is a deficiency in folic acid. A low intake of folic acid may increase your baby's chance of a craniofacial abnormality.
Types of Craniofacial Anomalies and What To Expect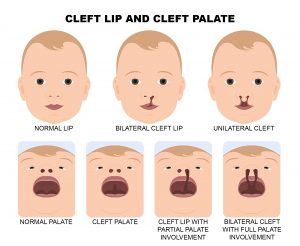 There are many different types of craniofacial anomalies. Some of the more common ones include cleft lip, cleft palate, craniosynostosis, hemifacial microsomia, vascular malformations, vascular anomalies, and deformational (or positional) plagiocephaly. Craniofacial clefts can be either unilateral (one-sided) or bilateral (affecting both sides of the face).
Luckily, there are surgeries and therapies available to aid in your child's treatment course. If you find out during pregnancy, or after birth, that your child has a CFA, there are certain steps you can take. First, do research in your area for highly recommended craniofacial surgeons who have experience with children. It is great to get a direct referral or do your own research online. Once you meet with a surgeon you like and trust, the whole process will feel more seamless and less worrisome. Craniofacial plastic surgeons are trained to work with children and families in a multidisciplinary team setting to deliver the best treatment possible for your specific situation.
Surgery may take place early in your child's life. For example, surgery to repair a cleft lip is typically done between ages 3 and 6 months, but any time before month 12 is recommended (CDC). Cleft palate surgery should be done between 12-18 months after delivery. Surgery for craniosynostosis may take place anytime between birth and 1 year of age, depending on the severity and specific presentation. Craniofacial anomalies can cause difficulty swallowing, eating, and hearing, so speech therapy may be indicated for your child.
The Institute for Advanced Reconstruction at The Plastic Surgery Center specializes in procedures to help heal babies born with craniofacial anomalies. We have qualified  plastic and reconstructive surgeons who offer procedures for craniofacial clefts and palates, craniosynostosis, hemifacial microsomia, microtia, and other congenital ear deformities, vascular anomalies, and hemangiomas. Our plastic surgeons who perform these surgeries have completed specialized training in Craniofacial surgery. Certain surgeries will require our surgeons to work alongside pediatric neurosurgeons and multidisciplinary teams to ensure the best results for your baby.
Visit our website for more information or to schedule a consultation today.
Sources 
Children Hospital New Orleans LCMCHealth