Breast Reconstruction Procedures At The Institute for Advanced Reconstruction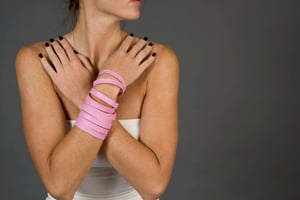 In lieu of the celebration of the first-ever National Breast Reconstruction Awareness Day (BRA Day USA) on October 17, 2012, and of Breast Cancer Awareness Month, The Institute for Advanced Reconstruction and The Plastic Surgery Center want to highlight the innovative techniques they use on their many breast reconstruction patients.
While most breast cancer survivors can be candidates for breast reconstruction surgery, the type of procedure will depend on treatment (radiation or chemotherapy), anatomy, and other aspects of an individual's case. It is also important to stress that breast reconstruction does not interfere with the treatment of breast cancer or surveillance for recurrence.
Our website (linked above) explains the innovative procedures we perform: among them, pedicled TRAM Flap, Free TRAM Flap, DIEP Flap, Tissue Expansion, Latissimus Flap (and innovative treatment for Lymphedema).
Here is an explanation of some of the other cutting-edge procedures we perform:
Nipple-sparing mastectomy reconstruction – This procedure refers to reconstructing the breast when a mastectomy is performed that spares the nipple and areola. Saving the nipple and areola is based on the specifics of the underlying tumor, and is at the discretion of the breast surgeon.
Women who had small tumors or have undergone total prophylactic mastectomy may be good candidates for this type of procedure.
Previously, breast reconstruction did not take into account the nipple and areola, which were always removed because of concern of remaining breast cancer cells in those areas. Now, in select patients, the remaining area is carefully examined for any sign of cancer in the remaining tissue and can be kept as part of the reconstruction.
Prophylactic nipple-sparing mastectomy reconstruction is also viable following a mastectomy that is performed for preventive reasons (e.g., a positive BRCA gene, or removal of a normal breast in a patient who has had or is having, breast cancer surgery in the other breast).
Nearly half of the women undergo a lumpectomy or are unhappy with the aesthetic appearance following the surgery. A partial breast reconstruction is an option. This refers to reconstructing the breast after a lumpectomy or partial mastectomy to correct an aesthetic abnormality, using FLAP procedures and/or implants.
Single-stage, or Direct to Implant Reconstruction, is reconstructing the breast in one operation using a permanent implant (versus two or more operations in more traditional implant methods). A permanent implant is inserted immediately following the mastectomy, avoiding the need for a tissue expander and subsequent expansion process.
Breast reconstruction surgery is not only a medical procedure but a highly emotional event as well. Surgeons at The Institute for Advanced Reconstruction and The Plastic Surgery Center take pride in both their medical expertise and their understanding of this sensitive procedure. According to Dr. Tushar Patel, one of the surgeons in practice, "One thing often not sufficiently taken into account is the psychological well-being of the patient. She's been diagnosed with cancer; she has multiple different doctors to see, and she may not be ready to discuss and ultimately undergo some of the more involved types of breast reconstructions. I take all this into account and then offer the patient the most reasonable reconstructive option for her."
Read the rest of Dr. Patel's informative and insightful interview on breast reconstruction.
The highly-qualified Double Board Certified reconstructive plastic surgeons at The Institute for Advanced Reconstruction provide consultations to advise patients of their best treatment options. After meeting with one of our physicians, an individualized treatment plan will be designed to meet your goals.