Breast Cancer Reconstruction: An Overview
Being diagnosed with breast cancer is devastating news and just the beginning of a long journey many women face. Our compassionate plastic and reconstructive surgeons at The Institute for Advanced Reconstruction understand these challenges and want patients to feel comfortable with their healthcare options when it comes to breast cancer care.
Types of Breast Cancer Reconstruction
There are a few types of breast cancer reconstruction procedures that women can choose from. Implants with tissue expansion and Autologous reconstruction are among the most common procedures performed in the U.S.
After the tissue is properly expanded, implants are placed to produce a natural fullness and size to the breasts. Skin envelopes are made by stretching the patient's skin. The type of implant is chosen based on the patient's preference. Implants can be saline, silicone jelly, or gummy bears.
Autologous breast reconstruction means reconstruction that uses tissue – skin, fat, and sometimes muscle – from another place on the body. The plastic surgery term for a piece of tissue like this is a flap. This method consists of pedicled flaps (the blood supply to the flap remains attached); and free flaps (the blood supply to the flap is separated and reattached). Some of these flaps include:
Pedicled TRAM Flap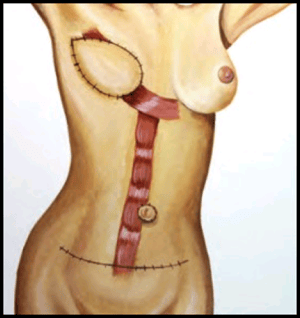 Free TRAM Flap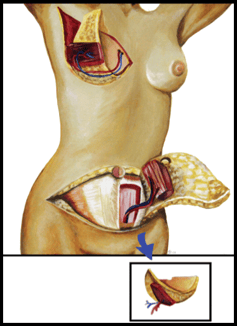 Free DIEP Flap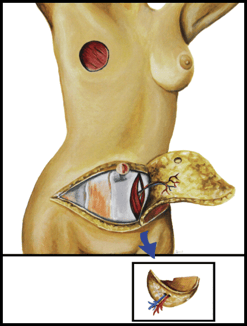 Latissimus Dorsi Flap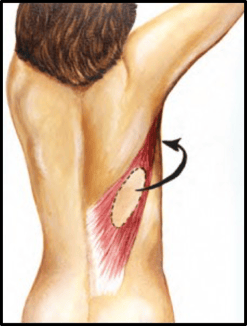 There are a few options patients have in reconstructing their nipples and areolas. Previously, breast reconstruction did not take into account the nipple and areola, which were always removed because of concern of remaining breast cancer cells in those areas. Now, in select patients, the remaining area is carefully examined for any sign of cancer in the remaining tissue and can be kept as part of the reconstruction.
Some options include:
Tattoo alone, 3D tattoo, Nipple Flap or Graft, Skin graft with tattoo
Here at the Institute for Advanced Reconstruction, we are passionate about helping our patients every step of the way, women regain their confidence and gain back what breast cancer took away. Our compassionate breast reconstruction surgeons work with each patient to develop a surgical plan they can feel good about.
Click here for more information on the Breast Reconstruction Program at The Institute for Advanced Reconstruction.