Reconstructive Surgeons Improve Quality of Life After Prostate Cancer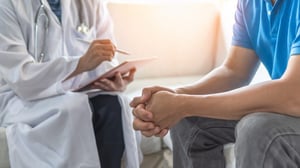 Movember is a movement that is observed each November. This month aims to raise awareness for men's health issues, specifically men's mental health, testicular cancer, and prostate cancer. The goal of the Movember initiative is to improve men's overall health and reduce the rate of early deaths.
Prostate cancer is the 2nd most common cancer among men in the U.S. 1 in 9 men will be diagnosed with prostate cancer at some point in their lives.
Early detection is the best prevention. Our surgeons recommend that men speak with their primary care physician about individual recommended testing guidelines. The good news is that prostate cancer treatment success rates are high compared to many other types of cancer in the body.
As more men are following recommended screening guidelines and treatment outcomes improve, the number of prostate cancer survivors also increases. However, as with any cancer treatment plan, there is a risk for potential side effects. Medical professionals around the world, including our surgeons, are finding ways to minimize side effects experienced by prostate cancer survivors.
Erectile dysfunction, which is the inability to maintain an erection, is one of the more common side effects associated with prostate cancer treatment. The psychological and emotional effects of erectile dysfunction can be distressing, often leading to a decreased quality of life. Though conservative treatment options with pills and injections exist, some patients find that they are unable to resume regular sexual activity using these modalities.
Dr. Eric Wimmers, the Director of The Program for Erectile Dysfunction at The Institute for Advanced Reconstruction, can perform a minimally invasive nerve transfer procedure to help restore erectile function following prostatectomy. A "nerve transfer" is a standard surgical technique that utilizes a healthy, functioning nerve, connecting it to an unhealthy, injured nerve in order to restore the function of the injured nerve. Our surgeons have seen great success in the restoration of erectile function in patients who have been treated with this procedure.
Our surgeons are also proud to offer surgery that helps preserve erectile function at the time of prostatectomy. The surgery may be able to help patients who are planning to undergo surgical treatment for prostate cancer and would like to minimize their risk of developing side effects. This procedure is done in conjunction with a skilled urologist.
This month and every month, our reconstructive and plastic surgeons support bettering men's health and encourage them to schedule an annual physical appointment with their primary care physician. Spread the word by encouraging the men in your life to do the same!