Abdominal Problems After Breast Reconstruction Solved by Procedure Pioneered at The Institute for Advanced Reconstruction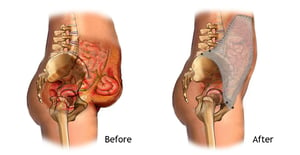 SHREWSBURY, N.J., July 24, 2014 — Andrea Fiest was like many women who face breast cancer. When confronted with the decision about breast reconstruction following a double mastectomy in 2002, the then 44-year-old Ocean Township, NJ resident said, "I was so fixated on getting well that when it came to reconstruction, I couldn't deal with it. It seemed like such a luxury."
A year later, however, she chose to undergo breast reconstruction using a TRAM flap with Dr. Andrew Elkwood of The Institute for Advanced Reconstruction in Shrewsbury, NJ. The most common type of autogenous tissue (from one's own body) reconstruction is the pedicled transverse rectus abdominus myocutaneous (TRAM) flap. This method transfers the tissues of the lower abdomen along with the rectus muscle ("ab muscle") to the site where the new breast is to be constructed. While the benefit of the TRAM flap is a natural-looking and feeling breast, it is associated with problems and risks related to the abdominal wall donor site. These include potential abdominal wall weakness, bulging, and hernia, which occur in many patients.
In an effort to proactively avoid these complications, together with the TRAM flap reconstruction, Dr. Elkwood performs a procedure he developed called BARs (Bony Anchored Reinforcement). During the BARs procedure, an immobile mesh is fixed to the pelvic bone, creating a stable foundation for the repair. This provides excellent reinforcement with improved contour and decreased morbidity for the lower abdominal wall. This procedure, used to treat people with serious and/or recurring hernias, is performed by only a select number of physicians in the country.
In a six-year study published in the August issue of the European Journal of Plastic Surgery, Dr. Elkwood and his colleagues examined the results of the TRAM flap/BARs combination surgery, concluding that the rate of success and patient satisfaction indicate the procedure is highly desirable in selected patients. In fact, in the mean follow-up of 3.1 years, none of the 63 patients studied had abdominal hernias.
Today, 12 years later, Andrea Fiest is proof of the positive and lasting results of the TRAM flap/BARs procedure. She is a full-time screenwriter and a busy mother of 19- and 16-year-old children. When first faced with breast cancer reconstruction, Dr. Elkwood told her, "You're going to be well, and you're going to want to get on with your life." Today, she says of the doctor whom she "totally trusted" for her TRAM flap and BARs surgery, "He was one hundred percent right."
Dr. Andrew Elkwood of The Institute for Advanced Reconstruction at The Plastic Surgery Center is recognized as a leader in the field of nerve reconstruction and other pioneering procedures. He is among the few nationally and even worldwide who perform a number of innovative, life-altering procedures. For more information, visit www.advancedreconstruction.com or www.looknatural.com.