Avascular Necrosis on Facebook Live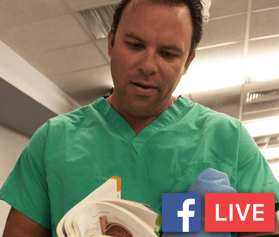 Do you or someone you love suffer from avascular necrosis (AVN)? Do you feel that you've exhausted all options on a journey that seems never to end? If so, meet Dr. Adam Saad of The Institute for Advanced Reconstruction.
Dr. Saad, a plastic and reconstructive surgeon, is an avascular necrosis specialist on the cutting edge of surgical treatments aimed toward this overlooked and debilitating condition. A pioneer in the field of avascular necrosis treatment, Dr. Saad has been helping patients all over the world get their lives back, and he wants to help you.
Join Dr. Saad on Facebook Live as he answers your AVN questions in real time. He'll be conducting two Facebook Live sessions and you'll find the schedule below:
Facebook Live Session 1—Ankle & Foot: Friday 2/24/17 @ 5pm EST
Facebook Live Session 2—Hip, Shoulder, Wrist & Knee: Friday 3/3/2017 @ 5pm EST
The live videos will be held on The Institute for Advanced Reconstruction's Facebook Page. You can like it here: facebook.com/AdvancedReconstruction. If you'd like to follow up with Dr. Saad before or after the Facebook Live sessions, you can reach out to his team by filling out the contact form on the right.