Dr. Saad Gives Invaluable Wedding Gift to NJ Man – The Ability to Stand During His Wedding Vows
Specialized Hip Procedure for Avascular Necrosis (AVN) Performed by Dr. Adam Saad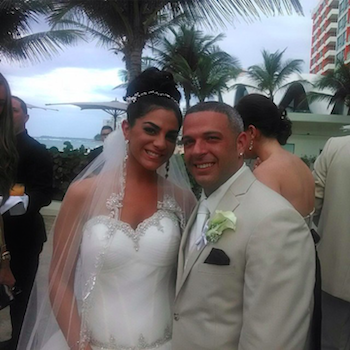 Atlantic City, N.J., May 8th, 2014 – Anthony Fiorentino, a 33-year-old Brigantine, New Jersey resident, avid gym goer, and physically active Regional Operations Director for a restaurant group, was experiencing pain radiating from his hip to his knee. He thought that he pulled a groin muscle during his gym workouts or golf game, but when an orthopedist took an MRI, he found that Fiorentino was suffering from avascular necrosis (AVN).
Avascular necrosis (AVN), also known as osteonecrosis, is the death of bone tissue due to lack of blood supply and can lead to the bone's eventual collapse. Dr. John Baker, Fiorentino's orthopedist, felt he was too young for a hip replacement, so he referred him immediately to Dr. Adam Saad of The Institute for Advanced Reconstruction. Saad is the only doctor in New Jersey who performs free vascularized fibular graft for AVN, a specialized microsurgical procedure for hip joint preservation.
Due to the excruciating pain, Fiorentino had to make many life adjustments. However, when meeting with Dr. Saad, Fiorentino addressed his biggest concern first, "I'm getting married in three months," he explained, "and all I want is to be able to walk down the aisle to my new wife." The recovery can be a long road, but Dr. Saad made a promise to get him standing by the time he took his vows.
On December 4, 2013, Fiorentino underwent a five-hour procedure on his right hip at the Atlanticare Regional Medical Center in Atlantic City, NJ. Free vascularized fibular graft removes the dead bone from the hip and replaces it with healthy fibular bone and a new blood supply, allowing the patient to preserve his/her own hip joint. This delicate surgery, performed by a limited number of experts in the country, is done by a multispecialty team of reconstructive microsurgeons and orthopedic surgeons. The dead bone is removed, and a canal is made for the fibular graft. The patient's fibular bone is then transplanted into the hip joint. Microsurgical techniques, a specialty of Dr. Saad, are used to connect the blood vessels of the fibular graft with those in the hip region.
Explains Dr. Saad, "When I first met Anthony, he told me how important it was to him that he be able to walk for his wedding. He reminded me of my own wedding day and of the joy I experienced on that day. I wanted to give him the opportunity to experience the same joy pain-free and be able to walk. Being able to help patients like Anthony is why I am a doctor. There is no greater thrill than changing a patient's life. Not only was Anthony able to enjoy his wedding, but he has also avoided getting a hip replacement at a very young age."
Following the osteonecrosis treatment, Fiorentino said, "It wasn't an easy recovery. There was a lot of pain for the first month." From crutches to a cane, and with methodical rehab and physical therapy, by Valentine's Day, Fiorentino was able to take fiancé Ariana out to dinner. By their wedding day in Puerto Rico on March 8, 2014, a mere three months following surgery, Anthony Fiorentino, supported by a cane, walked down the aisle to meet his new wife. For his nuptials, Fiorentino reported, "I handed the cane to my best man (his brother), and I stood up perfectly straight."
Of Dr. Saad, Fiorentino concludes, "Dr. Saad and his physician assistant, Gabrielle Caucci, were great. They both came to see me in the hospital. Dr. Saad took time to talk to my family and fiancé and answer every question. If I said I had pain, he listened to me. He cares about everything."
As of today, Fiorentino is free from AVN in his right hip. Before the surgery, he reported, "I was in excruciating pain–sitting, walking, going to sleep, and getting out of bed." Now Fiorentino is pain free. He is back to the gym, his job full-time, and even opening three new restaurants in Louisiana.