Patient from Israel Finds Solution for Diaphragm Paralysis
NJ Reconstructive Plastic Surgeon, Dr. Matthew Kaufman, Performs Phrenic Nerve Surgery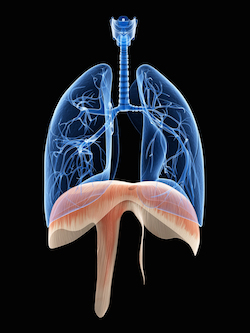 Gal Cohen*, who was used to a regular, brisk swim, found that following a surgical procedure for an unrelated issue, he was so short of breath he could barely manage. He couldn't sleep on his left side and used bedroom fans to provide what he felt was missing oxygen. In general, says the Tel Aviv resident, "I felt like I was suffocating even with mild exertion."
Subsequent tests determined he had reduced lung function, and a chest radiograph (type of x-ray) showed an elevated right diaphragm, evidence of his abnormal lung function and breathing problems.
The surgeon who operated on him told him that the surgery went well and that no nerve was mistakenly cut, and that nerve regeneration would, on its own, lead to recovery; however, two years later, the problem was still not resolved. That's when Cohen found reconstructive plastic surgeon Dr. Matthew Kaufman via the Internet.
Dr. Kaufman continually sees patients like Gal Cohen, who has a paralyzed diaphragm as a result of surgery, injury, or accident. Subsequently, they have life-altering symptoms. Much of the time, these patients are told by other medical professionals that they "just have to live with it." But the condition can cause severe problems, such as dangerous, repeated bouts of pneumonia. Dr. Kaufman offers an alternative. He is the only known surgeon to perform specialized phrenic nerve surgery. Dr. Kaufman, a specialist in Otolaryngology (head and neck surgery), has patients of all ages who have had phrenic nerve surgery and have come from around the U.S. and the world, including Australia, Canada, and Israel.
Dr. Kaufman has performed this procedure, which he has done at Jersey Shore University Medical Center in New Jersey and at the University of California at Los Angeles (UCLA) Medical Center over 150 times since 2007. He has also published various academic articles on phrenic nerve surgery.
The phrenic nerve controls the function of the diaphragm muscle – the primary muscle involved in breathing. Contraction of the diaphragm muscle permits expansion of the chest cavity and inhalation of air into the lungs. Until now, treatment options for phrenic nerve injury have been limited to either nonsurgical therapy or diaphragm plication, neither of which attempts to restore normal function to the paralyzed diaphragm.
Advances in nerve decompression and transplant have enabled Dr. Kaufman to reverse diaphragm paralysis. The techniques he utilizes are derived from the procedures commonly used to treat arm or leg paralysis, which has allowed surgeons to restore function to previously paralyzed muscle groups.
In July 2014, a year following surgery with Dr. Kaufman, Gal Cohen reported that his quality of life had improved significantly. He sleeps normally and has done away with his bedroom fans. "I have my energy back and no longer feel limited. I am capable of functioning without heart palpitations and shortness of breath," he says. Furthermore, a chest fluoroscopy (an x-ray that evaluates diaphragm movement), performed a year after surgery, revealed movement on both sides.
Dr. Matthew Kaufman states, "We have been very pleased with the progress of diaphragm recovery in this patient who traveled a long way (from Israel) to entrust us with his care. He suffered a rather severe injury to his phrenic nerve that would have otherwise left him with a permanent breathing deficit. Advanced microsurgical nerve techniques have been utilized for his specific injury leading to tremendous improvements. We expect further recovery over the next one to two years commensurate with ongoing muscle reactivation."
Gal Cohen, now a 48-year-old Ph.D. in genetics, says that since the surgery, "I can swim one kilometer (0.62 miles) in 25 minutes or less without difficulty. I actually feel almost the same as before the diaphragm injury. I'm so glad I found Dr. Kaufman."
*Not the patient's real name