New Jersey Surgeon Saves Teen's Hand After Near Amputation by Train
Reconstructive Plastic Surgeon Dr. Russell Ashinoff Performs Complex Hand Surgery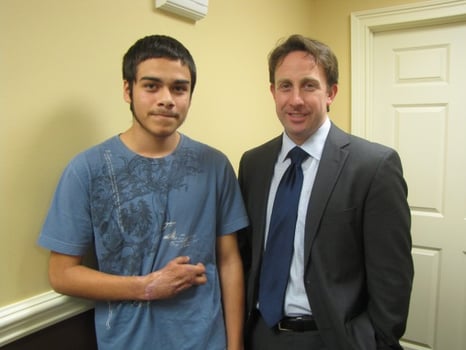 "I can tell the time of day by the sound of these commuter trains. They run like clockwork", explains Susan Villafuerte, mother of seven. One year ago, her 15-year-old son Michael was on his way home from school, taking the shortcut alongside those familiar railroad tracks. He glanced down at his watch; five minutes until the next train arrived. He turned to walk over the trestle bridge toward his house. But suddenly, something made Michael turn around. He turned just in time to see the train bearing down on him. He instinctively dove out of the train's path. The train came screeching to an emergency halt, with the wheel resting directly on top of Michael's right hand.
"Something told me to go look for him. I still have the mental image of when I found him," Susan recalls. "It's a mother's worst nightmare." Michael was immediately medevaced to the Jersey Shore University Medical Center, where he was fortunate that Dr. Russell Ashinoff, the reconstructive plastic surgeon, was on call that day.
When he arrived in the emergency room, Dr. Russell Ashinoff found that Michael had no blood flow to his hand and a very severe soft tissue injury. He was taken immediately to the operating room, where Dr. Ashinoff used microsurgical techniques to restore blood flow and save his hand.
Over the course of his subsequent treatments, Michael required five additional surgeries to reconstruct the tendons and bones and decompress the damaged nerves in his hand. Once the wound was controlled, a skin flap from the lower abdomen and skin grafts were used to replace the damaged tissue and cover the exposed arteries, nerves, tendons, and bones. He has made a remarkable recovery to date but still has a ways to go. He is set to undergo a procedure to rebuild his tendons, joints, and soft tissue on the back of his hand. His youth and motivation in therapy have made a tremendous difference in his successful recovery.
"This young boy experienced an unfortunate and unique trauma to his hand, which could have certainly led to amputation," said Dr. Ashinoff. "We are very pleased that we could help save his hand. And, given his young age, we are confident that with the addition of physical therapy, he should be able to regain the use of his hand."
Michael's mother still struggles with the memories from that day. One thing is certain, though, they have found the right surgeon in Dr. Ashinoff. "I'm very confident in his expertise, and his bedside manner is wonderful," Susan says. Dr. Ashinoff tells Michael, "In the end, I hope to give you the ability to turn a key in a door or to hold a girlfriend's hand."
About Dr. Russell Ashinoff
Dr. Ashinoff is a part of the medical team at the Institute for Advanced Reconstruction at the Plastic Surgery Center, which is comprised of a group of plastic surgeons in NJ, NY, and PA who are highly skilled in nerve transplantation and advanced reconstruction. They perform a number of unique operations to help patients suffering from life-altering medical conditions who are often told there are no treatment options available. Some of these conditions that the Plastic Surgery Center treats include:
Paralysis resulting from accidents and strokes
Diabetic neuropathy
Facial reanimation
Listen to Dr. Ashinoff speak about Michael's complex hand surgery on AM 1450 WCTC.