Gabe Hurley Receives Patient of Courage Award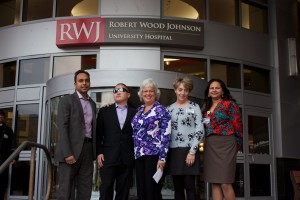 The Patients of Courage Award is presented by the American Society of Plastic Surgery to a reconstructive plastic surgery patient who has triumphed over adversity despite the difficulties of reconstructive plastic surgery. American Society of Plastic Surgery members nominate patients who positively affect the lives of others with their uplifting outlook on life.
This is a story of a remarkable young man who was involved in a horrific accident that left most of his face unrecognizable and plastic and reconstructive surgeon Dr. Tushar Patel, who helped give him a second chance at life.
In 2009, a graduate of Rutgers University and a promising musician, Gabe Hurley, was out doing errands when he was hit by a reckless driver and suffered a life-changing accident. Gabe suffered massive facial trauma and required 12 surgeries to reconstruct his face. Dr. Patel and his medical team had to reconstruct his entire mid-face, jaw, and frontal sinus passage.
Despite a long, relentless healing and rehabilitation process, Gabe never let his injuries affect him or his positive message. On the contrary, Gabe visits high school students and groups to give motivational speeches, sharing his story and stressing the importance of responsible driving.
As one of the recipients of the Patients of Courage Award by the American Society of Plastic Surgeons, Gabe Hurley received a $5000 grant through the Integra Foundation, to donate to a non-profit of his choice. Gabe generously chose to donate his grant to Robert Wood Johnson University Hospital's Level I Trauma Center's Safety Ambassador Program, a joint initiative of Robert Wood Johnson University Hospital's Injury Prevention Program and Safe Kids Middlesex County, which hopes to foster a culture of safety and prevention amongst youth.
Gabe's desire to live a positive life despite his tragedy makes him an honorary recipient of the Patients of Courage Awards. He continues to inspire and give motivational speeches on the topic of Safe and Healthy Driving.
To learn more about this story, click here or watch the video below.