World Cancer Day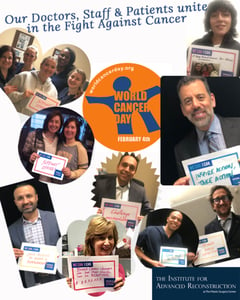 We recognize February 4th as World Cancer Day. Cancer is something that affects everyone in one way or another, and we feel strongly about supporting this cause. The surgeons at the Institute for Advanced Reconstruction specialize in the treatment of patients after surgery for the removal of cancer or after problems that can occur later. Our reconstructive techniques can be used in any area of the body that was involved in cancer, whether that is the head or jaw, the breast, or even down to the feet. Our plastic and reconstructive surgeons' specific training and techniques maximize functional and cosmetic improvement while limiting the amount of time you need to be in the hospital or out of work.
Our physicians also help to care for problems that can occur after cancer care is completed. For example, some patients can develop lymphedema or limb swelling after the removal of cancerous lymph nodes from the armpit or groin area. Our surgeons can reconstruct these areas, potentially stopping the progression of the disease and reducing the swelling, improving a patient's mobility and quality of life.
We feel passionate about the fight against cancer, and we will never give up hope!